This Lesson's feature image: George Herbert at Bemerton, Salisbury (1860), by painter William Dyce (1806-1864). Photo Credit: City of London Corporation (ArtUK.org)
📆 It is one year to the day – October 1st 2020 – since I started posting short Lessons on how to 'learn English through literature'! A lot has changed since then, with most of my Lessons now focusing on more advanced topics, but the ethos remains the same: to offer a new perspective on English language and literature, especially to readers for whom English is not their mother tongue.
As with any other educational commitment, there are times when it has been challenging to keep researching, writing, and creating new Lessons that are worth reading. If you are a student yourself, you will understand! But the most important thing for me has been to hold onto a high standard and aim for it always.
I remind myself that if many, many writers before my time worked so hard on their classic books, I cannot do less than offer my best in the time that I have! 📚
On this note, what better poem could capture such sentiments (views or opinions) than an old-time classic by the great Welsh-born poet and hymnist, George Herbert.
In today's Lesson, we will briefly consider George Herbert's life before reading his poem, 'The Elixir', for which I will provide a vocabulary list and a few reflective questions for you at the end. What is more, I am including some helpful lines of interpretation from the Friends of St Andrews' Church, the same church community in Wiltshire, England, that George Herbert once preached and served among. ⛪
…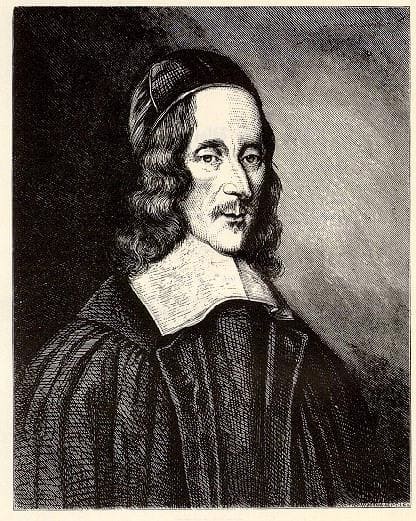 🕯️ GEORGE HERBERT – HIS LIFE
George Herbert (1593-1633) was an exceptional poet and hymnwriter in his short lifetime – the Poetry Foundation describes him as 'one of the foremost British devotional lyricists'.
He was born in Montgomery, Wales, but mostly raised in different parts of England. His godfather was the famous poet John Donne (1572-1631), a friend of Herbert's mother, and Herbert's father Richard was a member of Parliament until his death when George was only three. His mother, John Donne, and other family friends did their best for George by furthering his education: he studied first at the prestigious Westminster School and later won a scholarship to study at Trinity College, Cambridge when he was 16. He graduated with honours and went on to finish a masters there. His first interest had been to become a clergyman, but coming from a politically active family, he first embarked on a public career and became a member of Parliament for Montgomery (two of his brothers also followed their father's footsteps and had careers in the government).
However, it was not a satisfactory career for Herbert: he began writing devotional poetry and finally left his political work to study to become an ordained minister in the Church of England. One year later, he was sent to the small town of Bemerton in west England, and during his 3 years working there, he revised (edited for publication) many poems he had written over the years. His fluency in Latin and Greek was an influence on his classical yet simple poetic style, while his faith infused (filled) the moral weight behind his written thoughts.
During his time in Bemerton, he did much in the village to help the local community, including adopting some orphan nieces with his wife's help, travelling regularly to preach and play church music in the local Cathedral, and writing a book entitled A Priest to the Temple or, The Country Parson: His Character and Rule of Holy Life (only published after his death, in 1652). Having had poor health all his life, he eventually succumbed to (died of) tuberculosis shortly after publishing his poetry in the spring of 1633, aged only 39 years.
…
📜 'THE ELIXIR' (1633)
Teach me, my God and King,

In all things Thee to see,

And what I do in anything

To do it as for Thee.

Not rudely, as a beast,

To run into an action;

But still to make Thee prepossest,

And give it his perfection.

.

A man that looks on glass,

On it may stay his eye;

Or if he pleaseth, through it pass,

And then the heav'n espy.

All may of Thee partake:

Nothing can be so mean,

Which with his tincture—"for Thy sake"—

Will not grow bright and clean.

A servant with this clause

Makes drudgery divine:

Who sweeps a room as for Thy laws,

Makes that and th' action fine.

This is the famous stone

That turneth all to gold;

For that which God doth touch and own

Cannot for less be told.
…
📝 VOCABULARY:
Thee: (archaic or older English) 'You' (often used to address God, a sovereign, or an authority)
In all things Thee to see: To see You in all things
rudely: This word has two meanings, although in this context George Herbert is referring to the second meaning: 1. offensively or in a bad-mannered way. 2. in a rough and abrupt way.
beast: an animal (not necessarily an ugly or bad one!)
To run into an action: to hurry into doing something (without thought)
But still to make Thee prepossest: This is admittedly a difficult line to understand, but I believe it means that the poet doesn't want to run or rush into an action but rather to make sure that the action / intention is first dedicated to God (pre-possessed by Him), which will lead to his (Herbert's) working on it with a strong sense of God's perfection / high standard.
Herbert drafted this poem three times, and his very first version was called 'Perfection', so this is itself a strong theme throughout the poem.
And give it his perfection: And give your most perfect work or service as to God, attentive to 'His perfection' as you do it.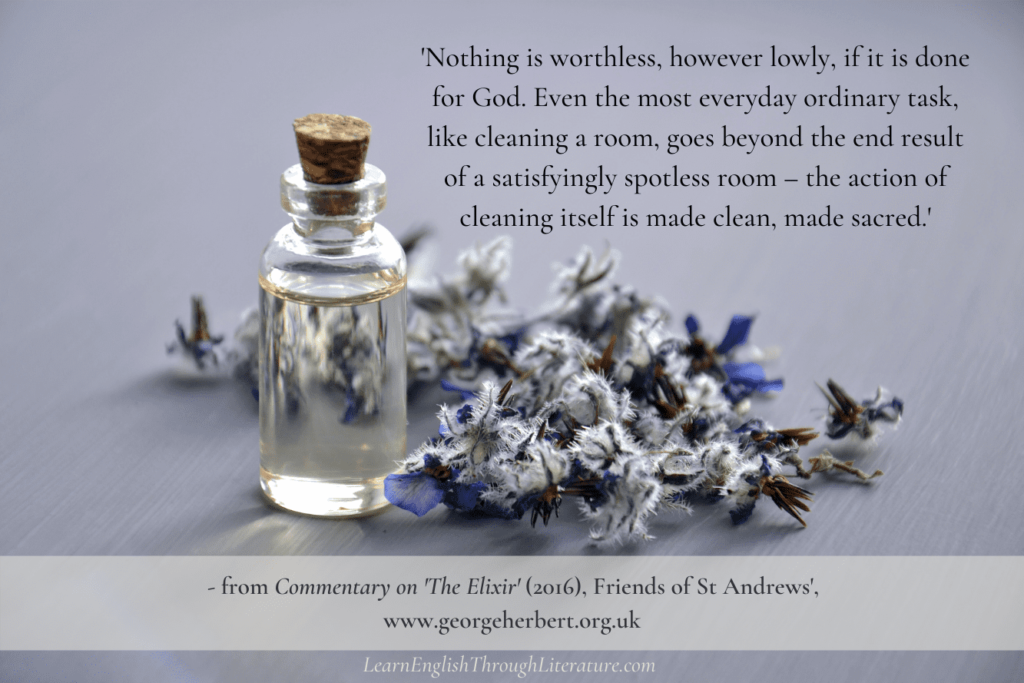 Glass: Here this refers to a mirror, which used to be called a 'glass' in Herbert's time.
On it may stay his eye: on it he may keep his eye; he may look at it intently with his eyes.
Or if he pleaseth, through it pass: Or if it pleases him, he can look past it …
And then the heav'n espy: And then he can see or notice a glimpse of heaven. In other words, if his eyes are only on what he sees right in front of him in the moment, he will remain earthbound; but if he can look past this, he will see everything in its heavenly context – a whole new perspective.
Herbert also wrote another poem called 'The Windows' that similarly explores this topic of earthly or materialistic perspectives compared with heavenly ones.
All may of Thee partake: Everyone can take together ('partake') or share something of Your presence and goodness …
Notice how Herbert's poem, which began with a first-person pronoun ('I') now expands to include 'all' or everyone in promise.
The verb 'partake' reminds one of the sacrament of Communion in the Christian churches, where everyone is invited to 'partake' of Jesus' sacrificial meal in community.
Nothing can be so mean: The word 'mean' here simply means 'base' or 'crude' or 'basic'. In other words, this line is saying that 'nothing can be too basic' that, if done 'for Thy (God's) sake', will not 'grow bright and clean' or become bright and clean.
tincture: Here this means a slight trace or influence of something. Thus the full sentence could be paraphrased like this:
Everyone may join and share in Your presence/goodness.
There is nothing so basic or simple
Which – with the slightest influence of God on it, done for His sake –
Will not naturally transform it into something bright and clean.
clause: phrase.
drudgery: hard, boring, repetitive work.
A paraphrase of these first two lines of the stanza could be as follows:
Any person who is serving others or working for others, having this phrase or attitude in mind, will turn even drudgery or dull menial work into something supernatural and divine.
Who sweeps a room as for Thy laws, / Makes that and th'action fine. In other words: Whoever sweeps even a room as for God's laws / ways, Will make that and the action itself into something fine / worthwhile / very special.
The word 'stone' here is a reference to the word 'cornerstone' or 'foundation stone' that is found frequently in the Bible, with which Herbert was of course very familiar. There is a line from the Book of Psalms 118: 22: 'The stone the builders rejected has become the chief cornerstone. This is from the LORD, and it is marvellous in our eyes.'
It seems to me that George Herbert here is hinting at this particular verse in the Psalms as he writes this stanza. Even if we feel that our work is so unimportant that no one will appreciate it (or someone might even reject it), we should not give up or become discouraged, because if it is done for a higher cause (namely, for God), it will all turn into something immensely valuable in the end – it will be redeemed (exchanged) for 'gold'.
For that which God doth touch and own / Cannot for less be told: For that which God does touch and own / Cannot be told / described as anything less [than gold].
Put differently, whatever is done for God – whether small or great deeds, noble or everyday tasks – will be greatly valued and rewarded in the end.
…
🕰️ EXPECTING A TRANSFORMATION …
You may be wondering: what exactly is an elixir? It is a medicine or solution that has powerful properties and can change how you feel and look.
These verses are designed to remind the discouraged reader that everything they do counts, everything they do has value. And it aims to encourage the reader to keep working at whatever they know they should be doing, even if that work seems a bit dull, tedious (too long, slow, or tiresome), or unappreciated at the time.
Why? Because according to Herbert, when it is done for God there is transformational power in the simple work itself that ennobles, strengthens, and sanctifies it (makes something sacred or holy or perfect) as something still greater .
Here are some reflective questions that come to mind after reading this poem:
💡 Have you been working steadily, maybe daily, on something that seems difficult, but you know has to be done?
💡 How is your attitude, your approach to the work, helping or hindering (making things more difficult, putting obstacles or blockages in your way) you?
💡 Is there anything in your attitude and perspective that you can change today to improve yourself and your work? Ask yourself why you are doing this work and how a new perspective can make a difference for you and for those you influence.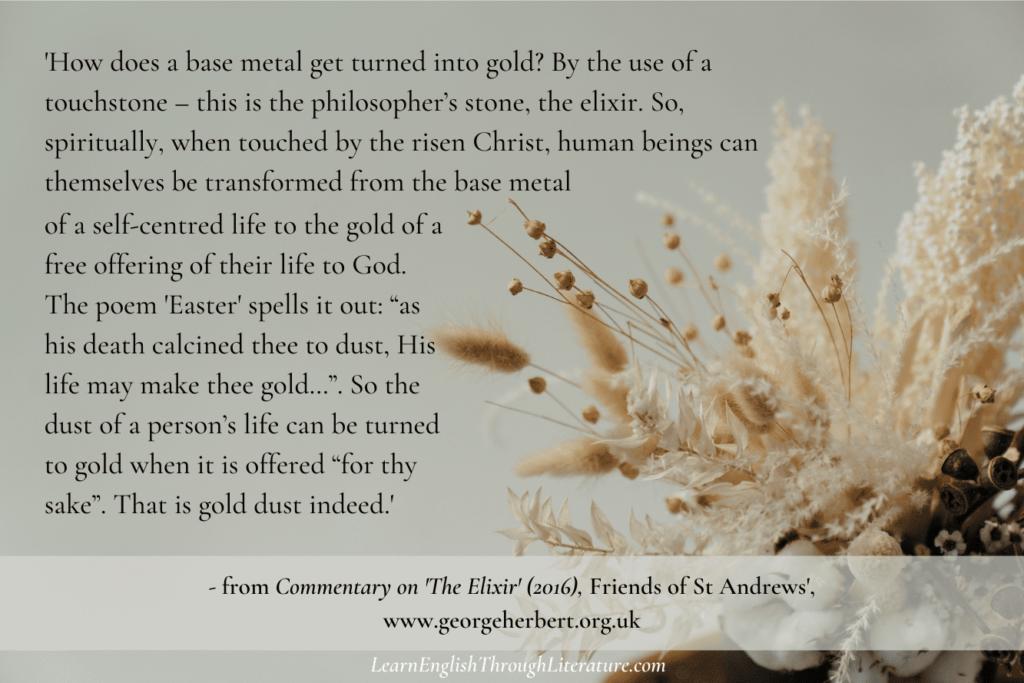 This poem has certainly been an encouragement to me, especially as I look back on a whole year of providing so many students with carefully researched Lessons. It leaves me, and I hope you too, with a sense of quiet confidence, knowing that whatever we do can actually be transformed and develop a greater value than we imagined, if we do everything excellently (Herbert might have used the word 'perfection' here!) and with wholehearted dedication – in Herbert's case and in mine, to God!