WRITING WORKSHOPS & COURSES
(Interactive Lesson Package)
These on-demand workshops are limited to between 3-6 participants per session.
They are mainly suitable for intermediate and advanced level students of English as a foreign language. 
WHAT THE WRITING WORKSHOP INCLUDES:
– Advanced proofreading of written work (approximately 1 hour)
– A personalised feedback review sent to each participant
– Workshop review (1 hour/1.5 hours) of the participant's written submission, together with those of other participants
– A 30-minute interactive lesson focused on the main issues encountered by participants in their writing
– Q&A session
– A recorded replay of the workshop
Length of live interactive workshop: between 1.5 and 2 hours, depending on the number of participants and written samples submitted.
Fee: 37 euro (first-time participants can avail of a 33% discount at 25 euro).
BEFORE THE WORKSHOP:
Each participant is asked to submit a short sample of their writing on any topic (up to 1000 words) in advance. I proofread this ahead of the workshop, and prepare a document listing any errors and suggested improvements.
The workshop is then scheduled, and in the event that the participant cannot attend it live, a recording is made available to the participant to review in her/his own time.
DURING THE WORKSHOP:
During the workshop, I review any proofreading changes made to the participants' written submissions by explaining the logic behind any corrections. Suggestions will be offered on how to improve future writing.
In this encouraging environment, participants will be invited to ask questions and have the opportunity to learn from each other's challenges and abilities.
The workshop session finishes with a short interactive lesson (approximately 30 minutes) designed to address the main issues faced by participants, demonstrating correct grammar and writing structure with suitable examples from classic literature.
AFTER THE WORKSHOP:
Participants receive their proofread written work with corrections, a feedback form that explains their main issues, and a recorded replay of the workshop session.
INTERACTIVE writing COURSE

The Wisdom of Ancestors (Dickens):
Improve English Language Comprehension and Writing
Through Literature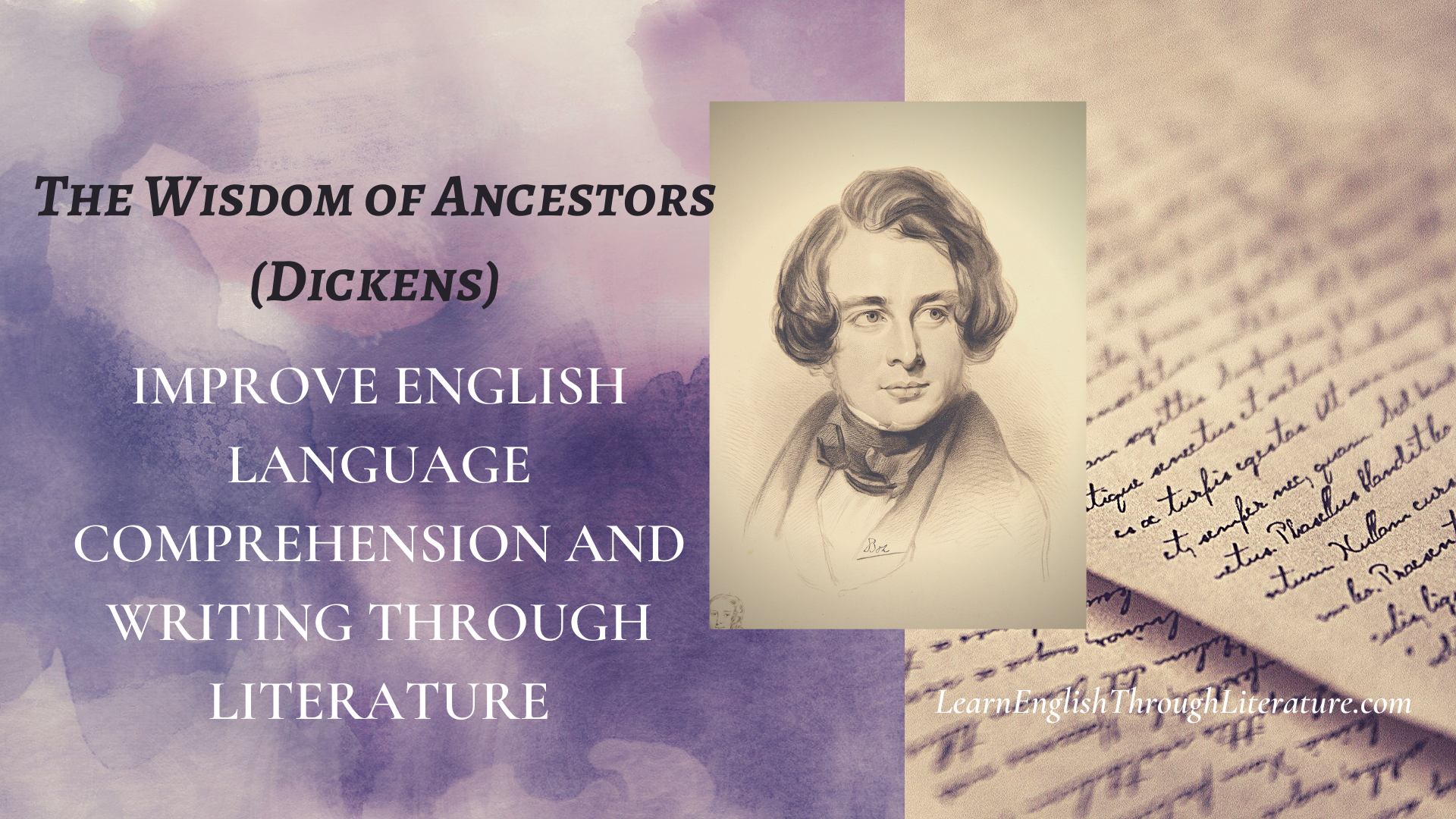 Confidently grasp an essential English classic AND advance your English writing skills to a new CEFR level in 60 days (or less)